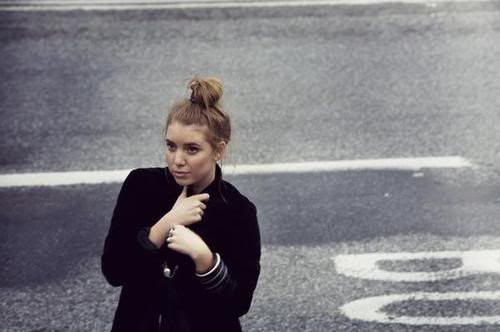 "IT WASNT ME!"
You know Lykke Li? Her name is Li Lykke Timotej Zachrisson, she is twenty-two years old, and her debut four-song EP, Little ... (more) Bit, out on her own label LL Recordings on May 6th, 2008, is an amazing introduction to an artist whose name we're pretty sure you'll be hearing all year long.
She was raised by artistic parents (her mother was a photographer, her father is a musician) and lived in Portugal for five years, and spent winters in Nepal and India. At one point, she worked as a dancer on Swedish TV shows.
She released her first album, Youth Novels on LL Recordings in the Nordic region on 4 February 2008 and it will receive a wider European release this June. The album was produced by Björn Yttling of Peter Bjorn and John and Lasse Mårtén. It was released in the United States on 6 May 2008 (Today).
She had some success with the EP "Little Bit" in 2007. Stereogum named her an artist to watch in October 2007 and described her music as a mix of soul, electro and powdered-sugar pop.
+ DOWNLOAD HERE! +
Lykee Li - Dance Dance Dance
+ See video: Lykke Li - I'm Good, I'm Gone
"I'm Good, I'm Gone" - the new video directed by Mattias Montero
+ See video:
Acoustic live version with guests: Robyn, Adam & Bebban (Shout Out Louds), Daniel (The Concretes), Lars (Laakso) and Mikael (Hjalmar).
Director: Ted Malmros + Christian Haag
+ See video: Lykke Li - Little Bit
The very first video from Lykke Li. Made by Mattias Montero.