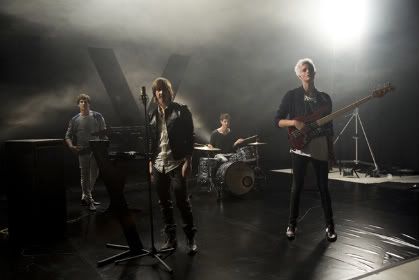 Formed in the early part of 05, Van She are a new band from Sydney. Unashamedly taking bits and bobs from 80's post punk, funk and synth pop, 90's grunge, French house, film scores, 70's Krautrock and the latest collection of innovative artists like Tom Vek and M83, Van She are that unique beast that one was beginning to believe no longer existed – a band that takes all these influences from days gone but makes them sound unique, modern, and…. fresh.
Van She formed when Nick Routledge [vocals, guitar], Matt Van Schie [bass], Michael Di Francesco [synths] and Tomek Archer [drums] all responded to an ad in Sydney's Drum Media and arrived at an audition for a vocalist for a doom metal band with influences including Sepultura, Entombed, Black Skull and Phil Collins to find the whole thing was a sham. You could call it the result of Satan at work, or you could call it fate.
Since the chance meeting Van She have been playing out and about around Sydney, headlining their own shows and supporting the likes of The Presets and Wolf & Cub.
+
Van She - Cat and The Eye (Tech Remix)
+ See new video: Van She - Cat And The Eye
+ See video: Van She - Kelly