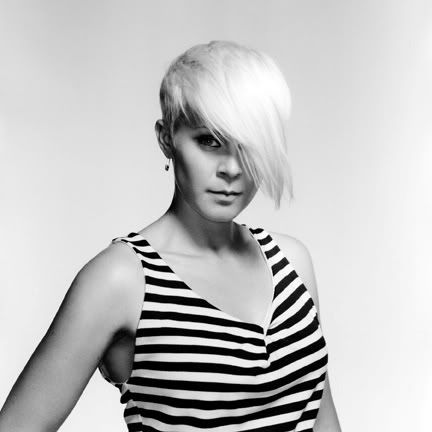 Robin Miriam Carlsson aka Robyn is a Swedish singer and songwriter, living in Stockholm.
In December 2006, Robyn released The Rakamonie EP in the UK as a preview to her more recent material. This was followed by the release of "Konichiwa Bitches" in March 2007. The revised edition of Robyn was released in the UK on April 2, 2007. The UK release contained new tracks "With Every Heartbeat" and "Cobrastyle" (a cover of a 2006 single by Swedish rockers Teddybears) alongside two slightly altered versions of the original songs.
The second single from the UK release was the Kleerup collaboration "With Every Heartbeat" which reached number 1 in the singles chart in the UK on August 12, 2007.
Now, new album "Who's That Girl" to be released.
28th April 2008 will see the release of Robyn's new single 'Who's That Girl', one of the album's standout tracks produced by uber cool fellow Swedes The Knife .
The video for 'Who's That Girl' was directed by Diane Martel , herself a superstar of the video world, who has worked with such luminaries as The Killers, The White Stripes, Beyonce and Jennifer Lopez.
+ See video: Robyn - Who's That Girl
+ See video: Robyn - Handle Me