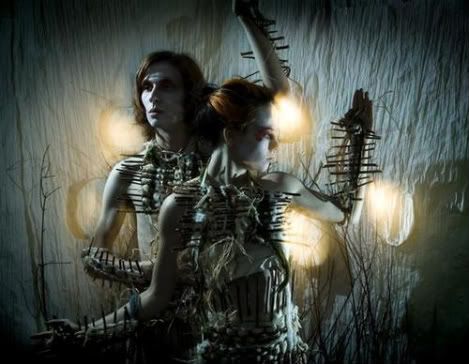 A Dandi Wind performance is an unforgettable event.
Dandi Wind was started in 2003 in Vancouver, Canada by Dandilion Wind Opaine (vocals) and Szam Findlay (music)
Dandi Wind revealed an industrial aesthetic. Vancouver electronic–rock greats Skinny Puppy came up more than once, as did plans for a "Ministry–inspired" record after their upcoming fulllength release. While their music strikes a balance between heavy and dance, Dandi Wind's lyrics reveal an underlying darkness.
Dandi Wind have also played shows with The Klaxons, The Hidden Cameras, Final Fantasy, Shychild, Simian Mobile Disco, Les Georges Leningrad, Broken Social Scene, Erase Errata and Planning to Rock.
Do yourself a favor and check out their website, www.dandiwind.com, for glorious photos of Dandi and snippets of their music.
+ See video: Dandi Wind - Adolescent