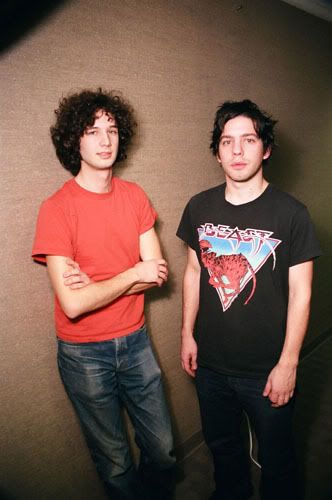 Shy Child is a band from New York City consisting of Pete Cafarella on vocals and keytar and Nate Smith on drums. The duo was formed in New York in the summer of 2000, Cafarella and Smith having previously played together in the band El Guapo (now called Supersystem). The band has played for years in New York, and in more recent years has toured in the United States, Europe, and Japan. In the summer of 2006 they signed with UK label Wall of Sound.
In early 2007, Shy Child released the singles "Drop the Phone" and "Noise Won't Stop" in the UK. The group released the single "Summer" in September 2007, followed by an October headline tour around the UK. "Drop the Phone" was re-released in November, where it was picked as Jo Whiley's "Pet Sound" of the week on Radio One.
Tracklist:
1. Drop The Phone
2. Pressure To Come
3. Kick Drum
4. The Volume
5. Generation Y (We Got It)
6. Astronaut
7. Good And Evil
8. Noise Won't Stop
9. Summer
10. What's It Feel Like?
11. Cause And Effect
+++ LISTEN LISTEN LISTEN +++
Shy Child - Drop The Phone
Shy Child - Pressure To Come
Shy Child - Astronaut
Shy Child - Summer
+ See video clip of "Summer":
+++ MORE MORE MORE +++
Official Site
My Space